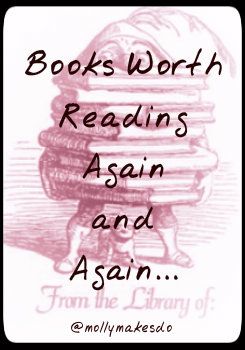 I love January book lists. I lover reading about the books devoured the year before and the plans to continue in the new year. I love finding new books to add to my own lists and I love the chance to geek-out a little and tell person after person "You must read this!"
So, instead of sharing my list of books of 2012 or list for 2013 I want to geek out a little.
I can reread a good book like other folks re-watch movies or re-play songs. To me a good book is something you come back to over and over again. I might put a book aside for years to pick it up again and read cover to cover again years later or I might pick up one book often, re-living my favorite moments.
So this is my list of "Book Worth Reading Again... and again"
The Lord of the Rings and The Hobbit by J.R.R. Tolkien - I started with these books when I was in elementary school. My parents used to read LOTR as a bedtime story. Every time I pick these up I'm at a different point in my life and something new catches my eye. I'm looking forward to experiencing them next as a fellow member of Tolkien religious beliefs.
Persuasion by Jane Austen - My favorite of all Austen novels. It's her most mature love story in my humble opinion and I always want to cheer for Frederick and Anne at the end. Twilight eat your heart out.
The Art of the Commonplace by Wendell Berry - An eye opening look at the world around us - his take on local economies and the nature of man and women are just dazzling.
A Wrinkle in Time by Madeliene L'Engle - This book inspired so much in my childhood and I've returned to it many times in my life for many different reason. If you've never read the final book in this the Wrinkle series, An Acceptable Time, it is a must read if for no other reason that to read some of my favorite quotes.
The Screwtape Letters by C.S. Lewis - A delightful read that real makes you question your philosophy. I have a theory that if you read LOTR and The Screwtape Letters alongside each they will sync up like Darkside of the Moon and the Wizard of Oz. I'm kidding... only a little.
Any collection of Calvin and Hobbes Comic Strips by Bill Watterson - I truly believe every child should grow up reading and re-read these.
The Harry Potter Series by J.K. Rowling - An amazing collection of excellent storytelling that can grow with you from childhood through adulthood. I look forward to the day I share these with my children.
These are just a few of the books I could re and reread, but I want to hear from you.
What are your favorite books to reread?