Wishing everyone a joyous and peaceful Christmas season - I'll be back in a few days

!
The link up will be open until Saturday night so no one needs to rush back from their festivities to share a post!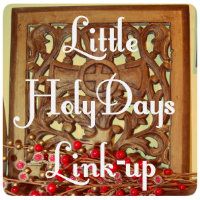 We are three Catholic bloggers who love to observe the liturgical year to deepen our families' faith and build up the domestic church. We would love to hear about your family's celebrations and traditions! Please join us in "redeeming the time" in this Year of Faith by sharing your posts about feast days, liturgical seasons, etc. in this new linkup. We are starting at the beginning of the Liturgical Year: The Season of Advent!
Todays link-up will be live until Midnight Friday and your always welcome to leave a message on Twitter

or in comments of any posts if you'd like a post to be added to our Little HolyDays Pinboard.
For the three of us, this link up is a way in which we plan on exploring and deepening our Catholic faith, but we would really love to hear from bloggers of all denominations and practices.
We welcome you to share your own feasts, festivals, and celebrations as they
fall within each week of December.
Please take a moment to visit the other linkers and leave a short comment to let them know you were there!
As moderators of this link up, we will reserve the right to remove any offensive or off-topic posts as we see fit, in order to maintain a positive and understanding atmosphere.