Welcome to the June 2012 Simplicity Parenting Carnival: Green Living
This post was written as part of the monthly Simplicity Parenting Carnival hosted by The Lone Home Ranger and S.A.H.M. i AM. This month we are discussing how we find ways to be more natural parents and stewards of the environment. Be sure to read to the end to see a list of the rest of the excellent carnival contributors.
***
I. Am. A. Hypocrite.
Upstairs, next to my bed, is a stack of "good food" books - Nourishing Traditions, Slow Food Nation, a Moosewood Cookbook - and I just opened a packet of "cheese" sauce to ladle on to some noodles.
It happens. It's embarrassing and I promise myself next time I'll do better.
I'm not Super Crunchy. Heck, I probably won't even pass for "Mostly Crunchy" on a good day, but I'm getting there. I'm sitting contentedly at the corner of "Almost" and "Crunchy" after a trip to the local grocery store with organic milk in a plastic bag in the back seat while my kid munches on baked carrot chips and I sip on a nice cold Dr. Pepper.
It's where I'm at and looking back on where I've been I'm happy with the progress.
-------
It starts with a book. It will be a different book for every person, but for me it was a combination of Michael Pollan's "In Defense of Food", "Your Money or Your Life" and Duane Elgin's "Voluntary Simplicity". I had been searching for a proper title for the ideas running around in my head. That a person could live well with out making a lot of money, that the home life was important and perhaps there was a reason my farming ancestors lived so long (I had ancestors living to their 90's in the 1800's and their 70's in the 1700's) might have something to do with good, real food and a good days work.
That moment began almost five years ago. We started small, trying to shop at local markets and worked diligently paying off over 10k worth of debt in under two years (all well never making more than $12.00 an hour).
We became a single car family for a while and my year spent walking the mile and a half to work was one of the most peaceful in my memory.
We made a pledge to furnish our home with only things that are "necessary, useful and beautiful" instead of giving in to the modern idea of "convenient, replaceable and trendy."
We moved back "home" in time for the arrival of our contribution to the next generation. We live close to family now, making them a central focus of our lives.
We adjusted our lives so that we work to live, to afford those things that cannot be produced by our own hands, rather than living to work.
We started really utilizing our kitchen, yard and surrounding farms to provide us with good, wholesome foods.
We say no to the latest and greatest.
We say yes to the satisfaction that comes with a little extra elbow grease knowing that we are meant to actively pursue life with all of our senses.
We strung up a line and can go months without turning on our dryer.
We focus on collecting experiences rather than things.
We limit our schedules and focus on the home first.
We plan ahead to teach our children the benefits and satisfaction of doing things with their own two hands.
We take the time, on a regular basis to stop and examine what goes into our bodies and our home continually comparing what we have, what we need and what we want.
We're not always perfect. I give into fashion and have been swearing to make my own cleaners for a year now. We have more things for ourselves and our child than we probably need. We take the car when we should walk and I don't check every label.

I'm not 100% organic, pasture feed, free range Crunchy, not yet.

But I'm getting there.


***
***
Thanks for reading the Simplicity Parenting Blog Carnival! We hope you'll take time to read these other great contributors' posts: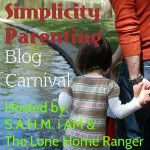 Thanks to all the fabulous writers and readers for being a part of our simplicity parenting community! Stop by
The Lone Home Ranger
and
S.A.H.M. i AM
to see how to join us for a future carnival.
*Also shared as a Guest Post @
NotYourAverageZoe,
and at
Frugally Sustainable - Frugal Days Sustainable Ways
and
Sorta Crunchy
- Green Resource (on Thursday) and
Little House in the Suburbs
- Weekly Link Up (Friday)