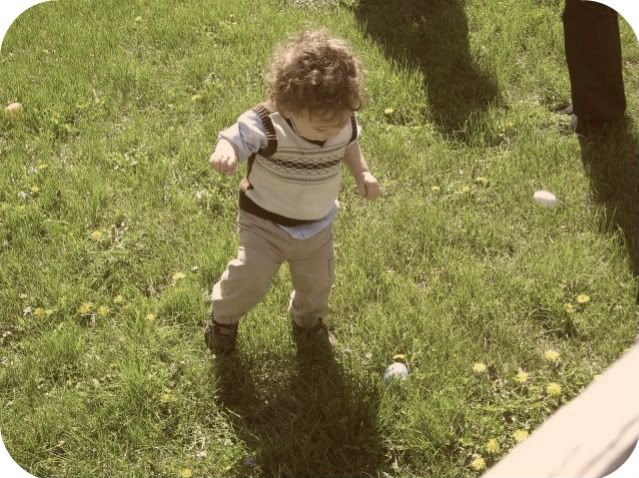 Easter here was a low key event. Since we knew he'd be getting little Easter presents from all the Grandparents we skipped giving one, except for adding a new movie to our collection. We did Church, a lunch out at the Amana Colonies (thank you all the great folks who worked the holiday for us) and we threw around some Easter eggs for Henry and his cousin to find - they did great and were even give each other the eggs they were finding (only a few more years and they'll be throwing elbows and complaining that someone has more!). We filled the eggs with Teddy Grahams, "All Natural" Fruit Snacks and little plastic animals (luckily the cousin got most of these since they're still technically a bit of hazard for a one year old) and Henry is a few Easter books and a mini-kite richer.
We had a few opportunities to discuss how we'll try to "handle" the holiday in the future and it sounds like we'll be skipping Easter baskets (from Mom and Dad) and sticking to the Easter Egg hunt to fill them up on goodies, with eventual plans to turn it into a scavenger hunt along with Easter Egg dying and a few other things. I'm hoping that next year we can break out some of the beautiful "natural" dye recipes I'm seeing everywhere! But, that's just a plan and we'll have to see what it turns into.
Overall it was a great holiday and of course Easter is usually the signal to us Iowans that it's officially time to get in the garden! I think I'm going to risk a late frost and put out a few non-transplant items this week and test my luck (mainly beans) and my first carrots, etc. and then it's only a few more weeks before full-tilt gardening season is upon us! I have to say I'm rather jealous of a few new blog friends who live in warm climates who are already doing some harvesting, but I guess good things come to those who wait. Right?
I apologize ahead of time if things get left behind here - even though we live in town we're not too far removed from our rural roots which means spring is ridiculously busy! With the job, the kids, the house, relatives and a farm I'm supposed to be helping with/learning to run somehow (apparently I get to de-rock a field sometime this year. Yippee!) time can get a little tight.
I hope every one's Easter or Passover or awesome Spring weekend was fantastic! See you later this week with some craft updates I believe!